Leppälä 1 - double room from the dormitory. 2nd floor
Leppälä 1 - double room from the dormitory. 2nd floor
Yliopistontie 4, 82900 Ilomantsi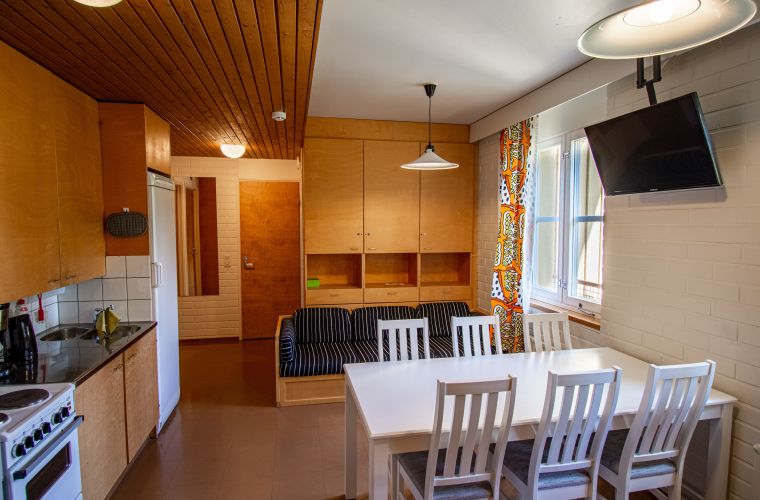 ---
Leppälä 1 - private bedroom from dormitory style apartment, 6 double bedrooms, sleeps 12.
6 double bedrooms with 2 x single beds, shared kitchen and shared 2 x toilet / shower
Leppälä is an accommodation option for large groups such as schoolchildren, hobby and excursion groups, training events and large gatherings when a lot of beds are needed.
Leppälä House has four apartments, each with six double rooms, a kitchen / lounge and two toilets / showers. The kitchen has a TV and facilities for self-catering. There are good outdoor routes in the area and the shore of Lake Mekrijärvi is a great place to swim, also safe for children. As an additional service, you can book a heated beach sauna.
Facilities
No smoking

Shared toilet

Shared bathroom

Fridge

Coffeemaker

Cooking possibility

No pets

Travel cot and high chair on request

Microwave

Electric oven

Dinnerware

Wood-heated sauna

Electric stove

Electric heating

Electric lighting

TV

Beach

Electric kettle

Bedclothes (towels at an additional cost)
Distances
Distance to airport:

71 km

Distance to train station:

64 km

Distance to bus station:

14 km

Distance to nearest store:

14 km

Distance to nearest ski slope:

47 km

Distance to nearest ski trail:

0 km

Distance to border crossing point:

89 km

Nearest border crossing:

Niirala
from 90€
Yliopistontie 4, 82900 Ilomantsi